The First Generation
The story of the first generation of ancestors who arrived on our shores can be better told if we understand the two general areas of Pennsylvania where they settled. The time span covers from 1836 to the present. Five families headed to the coal mines where work seems to have been plentiful. Thomas and Ann Kilmartin went first to Corning, N.Y. They then went to Morris Run and Arnot in Pennsylvania., and finally to Brooklyn, N.Y.
Michael Driscoll and Mary (Duggan) came to Morris Run with their parents from Canada. Michael was born in Canada, but after one year his parents came to the United States. Michael's parents had eight children. Michael, married Elesha Clarke, daughter of Joseph Clarke and Mary (Gilmartin) Clarke. Thus the Driscoll's became related to the Kilmartin Family. Michael was a foreman in the mines at Morris Run.
Patrick and Margaret (O'Brien) Donegan were born and married in Rathagan, County Kildare, Ireland. Two of their children; Mary, born 1846, and Edward, Born 1854; were born in Rathagan. Two others; Rose, born 1857, and Elizabeth, born 1858; were born in Bernice, Sullivan County, Pa. Rose Donegan married John Guiry. They had four children. One of their children, Katherine Guiry, my mother, married James Patrick Gilmartin. This relates the Donegan Family to the Kilmartin's.
James and Louisa (Dean) O'Neil came to America around 1855-57 and settled in Baltimore. They had five daughters and one son. Their first child was Elizabeth, born 1861 in Baltimore. She was a deaf mute so she was sent to St. Agnes School for the Deaf in Buffalo, N.Y. There she met Michael, the first son of Thomas and Ann Kilmartin, and were married in 1881. They had three sons, Joseph, James and Thomas Dean. James, my father, married Katherine Guiry from Morris Run, and the O'Neil family became related to the Kilmartin's.
The fifth family was Patrick Cusick and Mary (Guiry) who married in 1885. This was Patrick's second marriage. They had no children but through Katherine (Guiry) Gilmartin became related to the Kilmartin's.
To find all these families we have to be aware of towns like Towanda, Corning, Counties like Tioga, Bradford, Sullivan, Steuben, and county seats like La Porte, Wellsboro, Bath and Towanda.
We pick up our story of my great grandparents after arriving at Morris Run in 1865. Thomas became a coal miner and worked at both Morris Run and Arnot. Times were both good and bad, as previously mentioned. Thomas and Ann added to the large family by the birth of Patrick, born December 20, 1867, and William (called Taylor), born December 3, 1872. Their tenth child, Luke, was born May 22, 1872. After looking at the family tree we find seven boys and three girls. Unfortunately, three sons died very early in their lives. Thomas was nine years old when he died, during the year of the Tioga Lockout. Luke was only one and a half when he died in 1873. John was listed on the 1870 census, age 11, but no other record as to what happened to him was uncovered. As far as I could research, there is not one letter from the family of Tom and Ann still on file. To quickly show a broad picture of the family I have listed the marriages and the names of their children:
Name

Married

Children

Mary

Joseph Clark

Frank, Elesha, Thomas

Margaret

William Hunt (1)

Mr. Williams (2)

Henrietta, Julie, Loretta

no children

Catherine

William O'Hara

no children

Michael

Elizabeth O'Neil

Joseph, James, Thomas Dean

James

Hanna Ganey

Nellie, Margaret, Ann, James, Dan

Patrick

Margaret Murray

Murray, Margaret, John, Frank, Catherine

William (Taylor)

Nora Hayes (1)

Mary Looney (2)

no children

no children
All the marriages were held in Morris Run or Arnot, except the second marriages of Margaret and William. Michael could have been married at a church in Buffalo.
In an earlier chapter I outlined the activities of Tioga County during the families time there. A few reminders about the mines and railroads will help to visualize their life.
In 1852 the mines were opened at Morris Run. The Tioga Improvement Co. mined and marketed 325,000 tons of coal from 1853 to 1863. n 1864, the mines were under the control of the Morris Run Coal Company. W. S. Nearing, chief engineer and Superintendent, became the leading figure for thirty five years. His complete control and benevolent dictatorship gave many benefits to the miners. He installed many safety devices in the mines, and established a hospital for the miners. On the whole he was a real leader for both the owners and the people. In 1877 the Morris Run Coal Company combined with the Fallbrook Coal Company. Together, they became involved very heavily in the coal operations.
Mines were opened at Arnot in 1866. More railroad lines were created. This reflected the growth of the area and all the supplemental businesses which are attracted by railroads that move coal. They also provide cheap transportation for the people traveling between towns. All the coal was moved north, to connect with the major railroads and lakes in New York. Very little coal was being mined in New York State. It was estimated that these mines, between 1840 and 1885, moved a total of 16 million tons. Other industries that sprang up as a result of the railroads and mines were Tanneries and Agriculture. The states of New York and Pennsylvania were covered with an immense growth of timber.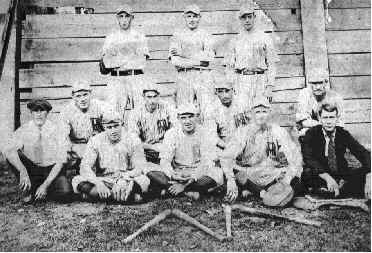 THE MORRIS RUN BASEBALL TEAM
THIS PHOTO OF THE LOCAL BASEBALL TEAM DATES FROM THE 1880'S.
ONE OF THE PLAYERS IS NANA'S BROTHER.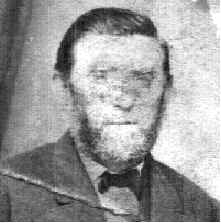 JAMES O'NEIL- FATHER OF ELIZABETH
(O'NEIL) GILMARTIN, WIFE OF MICHAEL
GILMARTIN, IN THIS PHOTO
TAKEN IN THE 1860'S