Life in Corning, New York
The first time I found a record of Thomas in the U. S. was in the 1860 New York State Census for Corning, (Steuben County) New York. He was living with the family of Michael Kilmartin, who was also listed as Gilmartin on property bought. Michael appears to have been a close relation, possibly a brother or a cousin. Michael arrived in America in 1848. He moved to Onandaga County, Skaneateles Township, and met Jane Connolly, who lived in Auburn with two sisters. They were married on September 16, 1859 at Holy Family Church, 85 North Street, Auburn, N.Y. Their first child, James, was born on July 16, 1851. James was baptized on August 3, 1851, at Holy Family Church. The family moved to Corning sometime in 1853 or early 1854. Their second child, Luke, was born in 1854 in Corning. Their daughter, Catherine, was born in 1856. Michael was naturalized in 1853. His family was listed on the 1855 N.Y. State Census.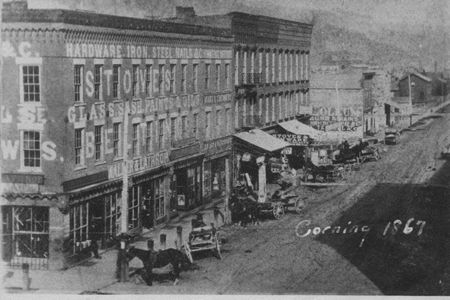 The photo depicts Market Street in Corning viewed from the west looking east. East Market Street until 1972 was residential ( all of East Market Street was razed in 1972 for an urban renewal project after the Hurricane Agnes flood ). As I remember from his obituary, Michael Gilmartin resided somewhere in the 200 block of East Market Street at the time of his death. The present library is close where the 200 block of East Market was prior to 1972. While I don't know for certain if that was the Gilmartin residence in 1860's, it is fairly likely that it was. If you look at the 1867 photo, you will see some residential structures in the background. That is probably the first block of East Market Street. That being the case, the Gilmartin residence would have been just beyond the right hand limits of the photo.- by Ron Yost, great-great grandson of Michael Gilmartin.
Photo from the Corning History Website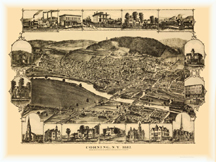 Click on the map to see a large view of this panoramic map of Corning, circa 1882.
Michael was a tailor by profession. He seemed to be successful as he bought property, owned homes, and remained in Corning until his death in 1903. Michael is buried in St. Mary's Cemetery, in Corning.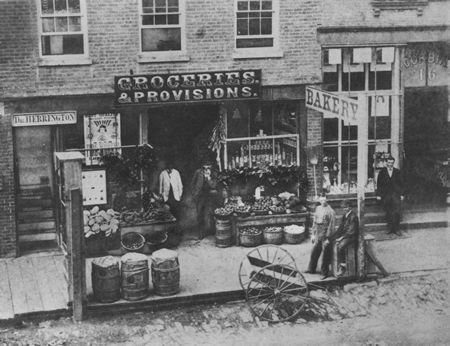 Photo from the Corning History Website
Thomas seemed to have a special relationship with Michael. I have been unable to determine from the records in what way they were related. Thomas was Godfather to their daughter, Catherine. According to the 1860 census, the two families apparently lived together. Let me show, by listing their children, how they were so friendly:
| | |
| --- | --- |
| Michael Kilmartin married Jane Connolly | Thomas Kilmartin married Ann Neary |
| Children: | Children: |
| 1. James, 1851-1922 Born inNY | 1. Mary born 1851-1909 Born in England |
| 2. Luke, 1854- (unknown) Born in NY | 2. Margaret, 1853-(unknnown) Born in England |
| 3. Catherine, 1856-1883 Born in NY | 3. Michael, 1857-1933 Born in England |
| 4. Thomas,1857- (unknown) Born in NY | 4. John, 1859- (unknown) Born in England |
| 5. Mary Ann, 1859- (unknown) Born in NY | 5. Catherine, 1862-(unknown) Born in NY |
| 6. William, 1863 - (unknown) Born in NY | 6. Thomas, 1864-(knknown) Born in NY |
| | 7. James, 1865 -(unknown) Born in NY |
We can see that Thomas worked and planned for the arrival of his wife, Ann, and their four children. They arrived in November 1860, on the Great Western. They stayed in Corning and had three more children. It is probable that they had watched the developments of the mines and railroads, along with the increase of activity of the coal fields of Blossburg and Fallbrook, and decided to move south in 1865. I am sure they kept in contact with the Corning Kilmartin's, because on many occasions the children visited and stayed with them. My mother told of visiting them, with Dad, soon after their marriage in 1911. We found from court records at the probate of the Will of James, in 1922, that there were five addresses listed. Three of the girls were married and had the names of Heverly, Dunleavy, and Yost.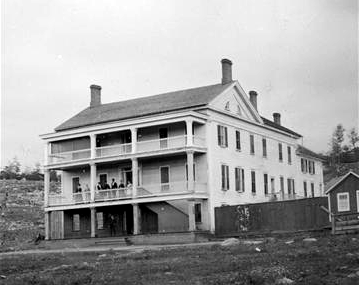 Fall Brook Hotel, Fallbrook, Pa,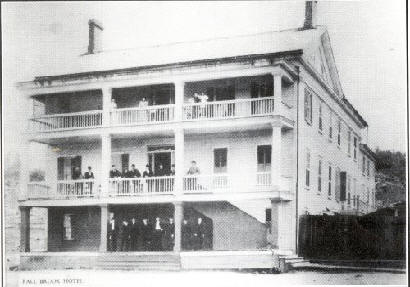 Fall Brook Hotel, Fallbrook, Pa, from the Kevin Neimond collection, used with permission
Obituary of Thomas from the August 23, 1911 Brooklyn Daily Eagle:

Note the spelling is "G"ilmartin- which leads me to believe that was the correct family name spelilng.
It was likely that Thomas was illiterate and his brogue caused the mispelling when his name was transcribed.
Editor's Note: In November 2002 I was contacted by Ron Yost, a great-great grandson of Michael Gilmartin, referred to in this chapter. Ron was able to research the relationship between Michael and Thomas and reasonably determined that Michael and Thomas WERE brothers. Ron states, "...the obituary for Michael Gilmartin in the June 12, 1903 Corning Evening Leader listed Thomas Gilmartin of Arnot, Pennsylvania as Michael's surviving brother. Reasonably assuming its accuracy, this establishes that Thomas and Michael were indeed brothers. However, the obituary did not give Michael' place of birth. Likewise, his gravestone states, "Native of Ireland" without giving a specific town."