The Second Generation
Earlier I listed the names of the ten children of Thomas and Ann. Three were born in England, three in Corning, and the last three were born in Morris Run. I would like to give a little background of each one.
Mary, the oldest, married Joseph Clarke around 1869 or 1870. Joseph had come to Morris Run only a year before they married. They said he was a sailor, but he came to the mine area to look for work. He is shown in several pictures as an outgoing type, appearing very forward and self assured. This could be why he married after only a year in town. His aggressiveness also showed up in his daughter Elesha and son Thomas in their life and children. Very little information of their life in Morris Run has filtered down to us. It does appear that Joseph could have provided the motivation that brought the Kilmartin's down to Brooklyn, although his son, Thomas, provided employment for the men. Mary died in 1909, in Brooklyn, and Joseph lived until 1931. He worked in insurance while watching his son Thomas gain power and wealth. Their home in Arnot, Pa. was also called Shantytown.
Margaret, the second child, married William Hunt. They moved to Brooklyn around 1910-1915. We understand that she ran a boarding house on Lefforts Place, Brooklyn. She later married a second time to a man named Williams and had three girls. It was difficult to obtain additional information, but Dolly Driscoll remembered visiting Margaret at Lefferts Place while she attended school.
| | |
| --- | --- |
| Michael, the third child, was born in Bradford in 1857. His name was actually Thomas, according to his birth certificate. In the course of my research I have found that this happened several times, but I cannot understand why. Michael was a deaf mute. I have not been able to ascertain whether he was born with this condition or it resulted from a childhood illness. He was not prevented from entering America at Ellis Island and he went on to attend school at the St. Agnes School For The Deaf in Buffalo. This was a major change in his life. He thrived in school and became a skilled carpenter. He met his wife Elizabeth at the school and returned to Morris Run, able to work at the mines as a carpenter. Elizabeth, born in 1861 in Baltimore, was also a deaf mute and attended St Agnes School. MICHAEL GILMARTIN- PHOTO TAKEN IN LATE 1870'S> | |
Michael was the first member of his family to finish high school. Michael was a very bright and intelligent man. From his books, of which I have obtained a few, he appeared to have a deep and penetrating mind. Their topics included higher mathematics and metaphysics, at levels that would challenge many of our college graduates today. They had three sons. Joseph, listed as Michael Joseph on his baptismal certificate, was born in 1882, but died soon after they arrived in Brooklyn in 1904. My father, James Patrick, was born in Morris Run in 1886 and died in 1941. Thomas Dean was born in 1900 in Morris Run. My grandfather came to Brooklyn with his parents and lived at 104 Seeley Street. For the rest of his life he lived with my mother and dad. He worked with my father on construction jobs until he was no longer able to work. I can still remember him sitting at the window of our family home at 623 Greenwood Ave., in Brooklyn smoking his strong, aromatic HONEST tobacco. His wife, Elizabeth, died in 1920. She could have been heartbroken on losing her two sons, together with her illness. Michael died in March of 1933 and is buried in Calvary Cemetery, with all his family and his mother. I also found that his family lived in Castle Gardens in Arnot, before coming to Brooklyn in 1900.
Catherine, born in 1862 in Corning, was the first Kilmartin born in America. She married Bill O'Hara, had no children, and came to Brooklyn with the others. It seems she separated by time and place from Bill 'O'Hara and lived with the Clarke's at 176 Seeley St., Brooklyn. She ran the house after the death of Mary, her sister, in 1909. She is buried in the Holy Cross Cemetery in Brooklyn with the Clarke Family.
James was born in Corning in 1865 just before the family moved to Morris Run. Before his marriage he had the reputation of being the character of the family. He told of working in the mines from the age of 12, and pushing scholastic achievements aside to play baseball. It was said he played ball very well for the Morris Run team. Taylor had a picture of Jim with the team. He spend some of his time with his namesake and cousin, James, in Corning, in 1891. He married Hannah Ganey on November 18, 1891, in Morris Run. They had five children, two dying in infancy. A daughter, Ann, worked as a secretary in New York City , and married late to Richard Pettit. They moved to Springfield, Mass. James, the second son, worked for the telephone company.

JAMES GILMARTIN- PHOTO TAKEN IN 1930'S>
I met a man named Edward Phelan while on jury duty in Mineola in 1980. He recalled Jimmy as a young fellow he trained at the phone company. He married a girl names Catherine, had a daughter and divorced in 1965. I have no further information regarding James. Dan, the youngest son, was a chip of the old block. He was a very good baseball player, with a knack for hitting the long ball. He worked as a Steward on ships in the Merchant Fleet and died without marrying.
Patrick, born in 1867 in Morris Run, was the closest to his father. He lived with the family up to the time he left to work for Thomas Clarke as a timekeeper, in Brooklyn. He returned to Morris Run in 1904 and married Margaret Murray. They returned to Brooklyn and raised five children, Murray, born 3/10/08, Margaret born 12/12/10, John born in 1915, Frank born 10/16/16, and the youngest, Catherine, born in 1923 in Staten Island, the same year Patrick died. From 1904 to 1911 Patrick took on the responsibility of taking care of his parents, Thomas and Anne. After working as a timekeeper, Patrick bought a grocery store. The store was short lived, folding in 1911, the same year his father died at his home on Prospect Place, now part of Caton Ave., at 8th St. Patrick and his family moved to the Bronx where he worked as a building caretaker. He later moved to Staten Island, where he died. The family moved back to Brooklyn after the mother died. His daughter Margaret married Frank Madigan and have three children, Katherine Anne, Frank Arthur, and Margaret Mary. Patrick's other daughter Catherine married a Windsor Terrace local named Frank Tornabene. They have five children and live on Long Island.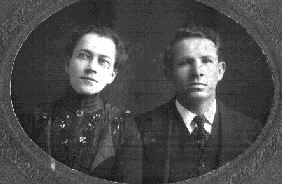 William (Taylor) was born on December 3, 1869 in Morris Run. He married Nora Hayes on September 21, 1899 at St. Andrews Church in Morris Run. Known as Will and Taylor, he worked as a shoemaker and worked on the main street of Morris Run.
Nora Hayes was the daughter of David and Margaret Hayes. Nora's father was active in the mines and had a large family. The Hayes are buried in Moscow, Pa.
WILLIAM (TAYLOR) AND FIRST WIFE NORA , ABOUT 1899
Nora Hayes died and Taylor married Mary Looney. Mary was born in Canton, Pa., later moving to East Rutherford, New Jersey. They lived an active life from 1931 to his death in 1948. Mary and Taylor had the opportunity to return in 1932 to the Blossburg 100th year Centennial Celebration. I have a carbon copy of the program of events of the gala. Taylor had no children. Taylor did love children however, as he always found time to bring the Gilmartin children gifts for Christmas,pulling a practical joke or two in the process.
Early in his life at Morris Run Taylor had listened to a Priest named Father Murphy, a follower of the famed Jesuit priest of Ireland, who preached Temperance. After hearing Father Murphy, Taylor took the pledge to abstain from liquor and kept his pledge until he died. As a young man I remember Mary and Taylor playing a noisy game of Bridge with mother and dad during the last days of Dads life. I especially recall Taylor walking with me to the departure station when I left for the Army in 1942, while mother and Catherine, my sister, stood on the porch. Mary lived until 1968, being a constant and faithful friend of my mother. Mary was taken to Canton, Pa., for burial. Her nephew from Canton was left the old homestead at 95 E. 5th St., Brooklyn, Taylor's home from the early 1900's.