The work posted here is posted for viewers to read. All work is subject to copyright laws. Recently we have received reports of information being copied off this website without permission of the owner. Copyright infringements will be vigorously challenged. Appropriate agencies will be notified and violators of copyright law will be prosecuted.
Introduction
This story was written by Edward Gilmartin in 1980. It was edited by Dan Gilmartin, and updated as new information became available. Edward died in 1997 at the age of 82. Shortly before he died, Ed passed the torch to me to keep the memory of our ancestors alive. I do so with great honor and privilege. We miss "Uncle Ed" and his marvelous story telling ability. Edward is shown as a young man on the upper right photo of the page header, beside a photo of our beloved "Nanna" and Edward's mother, Katherine. I hope you enjoy this remarkable historical document you are about to read. - Dan Gilmartin
The real object of genealogy is to establish the lines of decent of human beings. The genealogist is concerned with proving the parentage of an individual at a time and then the parentage of his parents, and so on, step by step until the facts are no longer available or provable and fade into history. I cannot claim to be a trained genealogist. From the time I first became interested in my ancestors, I have had a tremendous enjoyment in seeking information and I have obtained a vast amount of factual material.
It all began after I had seen the large family picture taken in Prospect Park in Brooklyn in July, 1907. The photo covered four generations, and I wanted to know more.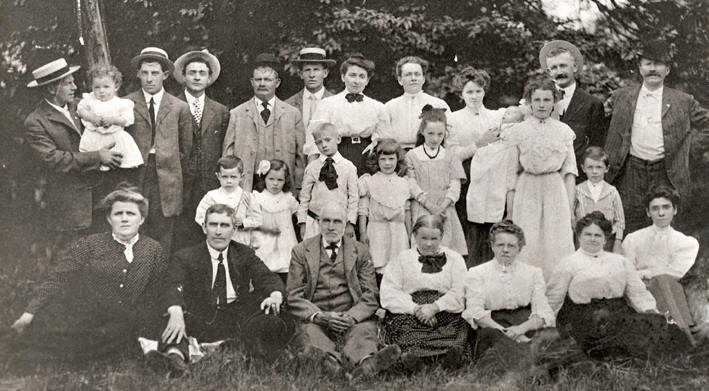 THE GILMARTINS IN BROOKLYN- THIS PHOTO WAS TAKEN IN PROSPECT PARK IN 1907. PICTURED FROM THE BACK ROW LEFT IS JAMES GILMARTIN- FATHER OF ANN, JAMES, AND DAN, BABY DAN IN HIS ARMS, PATRICK GILMARTIN (HUSBAND OF MARGARET (MURRAY) GILMARTIN, FRANK CLARKE- SON OF MARY (GILMARTIN) CLARKE, MICHAEL GILMARTIN- SON OF THOMAS AND ANN KILMARTIN AND GRANDFATHER OF THE AUTHOR, WILLIAM (TAYLOR) GILMARTIN, ELIZABETH (O'NEIL) GILMARTIN- WIFE OF MICHAEL GILMARTIN, NORA (HAYES) GILMARTIN- WIFE OF TAYLOR, ELESHIA (CLARKE) DRISCOLL- MOTHER OF SIX & WIFE OF TOM DRISCOLL (HOLDING BABY JOSEPH DRISCOLL), TOM DRISCOLL, WILLIAM O'HARA. CENTER ROW (CHILDREN) FROM THE LEFT IS JAMES GILMARTIN- SON OF HANNAH AND JAMES GILMARTIN, MADELINE DRISCOLL- DAUGHTER OF ELESHA (CLARKE) & THOMAS DRISCOLL, JOHN GILMARTIN- SON OF MICHAEL & ELIZABETH GILMARTIN, MARY (DRISCOLL) REILLY- DAUGHTER OF ELESHIA AND THOMAS DRISCOLL, ELESHIA (DOLLY) (DRISCOLL) LEONARD- DAUGHTER OF ELISHIA & THOMAS DRISCOLL, ANN GILMARTIN- DAUGHTER OF HANNAH (GANEY) AND JAMES GILMARTIN, THOMAS DRISCOLL- SON OF ELESHIA & THOMAS DRISCOLL. FRONT ROW FROM THE LEFT IS HANNAH (GANEY) GILMARTIN- WIFE OF JAMES GILMARTIN, JOSEPH CLARKE- HUSBAND OF MARY (GILMARTIN), THOMAS KILMARTIN, ANN (NEARY) KILMARTIN, MARY (GILMARTIN) CLARKE- WIFE OF JOSEPH CLARKE AND MOTHER OF T. A. CLARKE & ELESHIA CLARKE, CATHERINE (KILMARTIN) O'HARA- WIFE OF WILLIAM O'HARA, MARGARET (O'NEIL) NORTON- SISTER OF ELIZABETH (O'NEIL) GILMARTIN.
This photo was taken in Prospect Park in 1907 & inspired the writing of this history
I searched the libraries in Brooklyn, Queens, New York, and Washington D.C. My investigation continued in colleges like Adelphi, Nassau Community, Hofstra, Mansfield and Wilkes Barre, the British Museum and the Library of Congress. It was exciting and time consuming, but time well spent. I knew I was adding to my knowledge of events that effected the lives of my great-great grandparents, my grandparents, my parents, and each one of us. The research facilities of the Mormon Church in Plainview, L.I., the National Archives in Washington D.C., Hall of records in Somerset House, England Dublin Castle and the town halls of Wellsboro, Dushore, Towanda in Pennsylvania and many other churches were all part of the material gathering for my desire to find the where, why, and how in the lives of my forbears. The endless reference books read, the microfilm searched and reviewed, make this first attempt of putting some organized form for the benefit of all the family a seemingly impossible task.
At times I will write as a romanticist, rather than a genealogist. I will state some thoughts that may not be proven by any fact, but I hope to enliven the interest of some of our younger generations. I hope they will begin a curiosity to search, pick up the torch, and keep the lives of our Ancestors always before us.
One of the hardest things for our ladies to accept about family history or the family tree is the emphasis on the male line in recorded history. As each woman becomes married, the maiden name is somehow lost in the records or overlooked in the line of heredity. We must fear not, because it is usually the female who uncovers the facts and becomes the strength and the source of making the family remembered and cherished. There are many details concerning the genealogical methods I used. Time and space will not permit me to explain them all. I hope this little story will delight and sadden, make you laugh and cry, and remember no matter what our name is or has become, we have a lot to be proud of. For this, we should try and see the deep sacrifices our ancestors had to make during the past two centuries to bring us to this time and place in our lives.